Home | Jackson Creek | Southern Jubilee | CD: Jackson Creek! | CD: Learn to FIDDLE!
Performance Schedule | Folkfiddle Gifts | Bios and Email | Sound | Workshops | Jams | Links
Southern Jubilee enjoying
English Country Dance...
www.folkfiddle.com
Sandy Meloon, Katie Bailey, and Joe Waller
at the "Midsummer Night's Dream" Ball in Melbourne 2003

Southern Jubilee got it's start with English country dance playing regularly
St. Augustine English Country Dance group.
Thanks to the St. Augustine Record Newspaper for publishing this wonderful article!
Southern Jubilee's English Country Dance Play List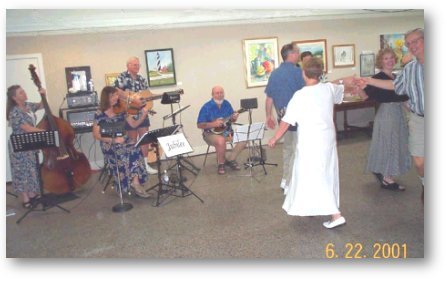 That's Charlie on the far right!
Visit his English Country Dance web site!
Remember... English Country Dance tunes are
wonderfully elegant music for weddings and receptions!!!
We would love to provide music for your wedding or other event!
For more information email Katie Bailey.